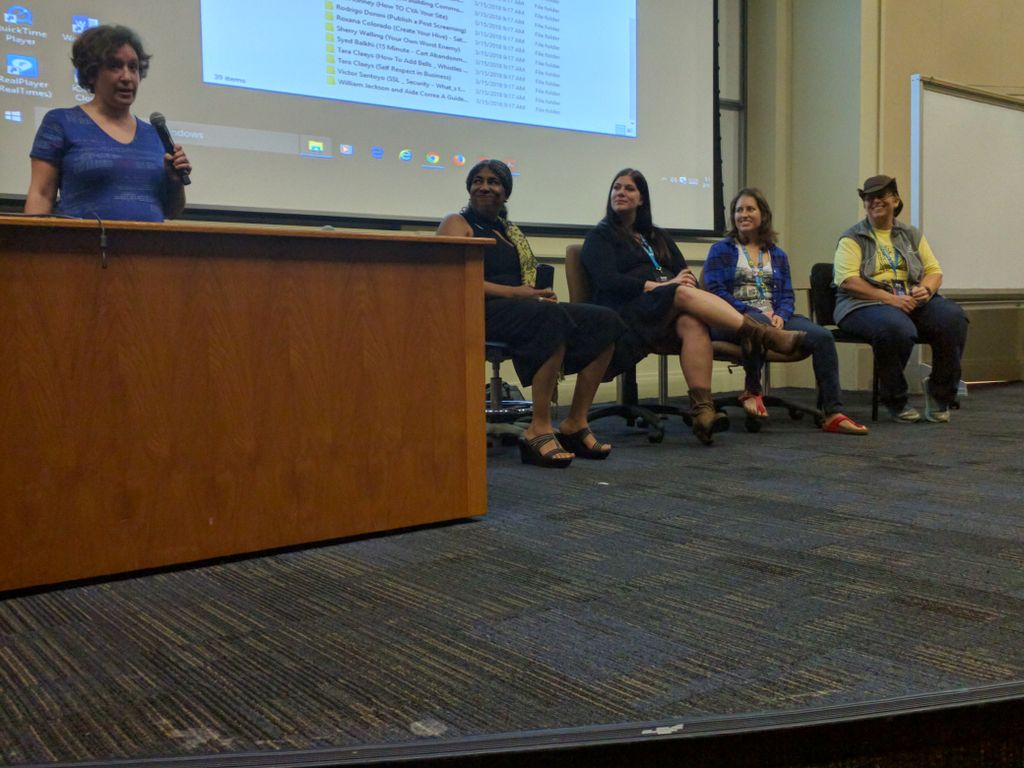 I'm in my AirBNB, on my last day in Southern Florida, and I can't help but reflect on this past weekend. I was lucky enough to be one of the 70 speakers at WordCamp Miami, which I'm told is the 3rd largest WordCamp, only behind US and Europe. Over 1000 people attended this three-day conference.
Arriving on Thursday night, I snagged a room at an AirBNB that was only a 10 minute walk from the airport. I was very lucky to still have been in Canada when the FIU bridge collapse occurred. What a horrible tragedy – I'm still looking for any campaigns/funds to help the victims' families. The next morning, Laura (one of the organizers) and her husband Oliver, were kind enough to pick me up close by, and drive me to the FIU campus. I attended the developer, Gutenberg-focused, workshop. WOW, did I learn a lot. The most beneficial was Brian Richard's introduction to coding the Gutenberg blocks. Josh Pollack's was also fantastic, but a bit over my current code level (considering my lack of ES6 and React!).
Moving to the #HallwayTrack for the latter part of the afternoon, I chatted with some new and old friends, enjoyed the sunshine, and met up with Tara, with whom I was splitting an AirBNB with for the duration of the conference. We dashed to the home, showered, and headed off to the speaker dinner, where again I had some great conversations with some new and old friends. The most WordCamps I attend, the more people I meet, and the more friends I gain.
Day two brought a morning in the developer track (I'll summarize my sessions attended later, once I go through my notes), a BIG lunch of chicken and ribs, and then I popped into the community track. Two talks inspired me the most – both by friends. First was by Raquel, a fellow dancer, talking about building community and relations IRL. I believe very strongly in making connections off the internet (as well as on), so it was nice to have my thoughts affirmed. Secondly, my friend Carole, whom I met in Seattle, spoke about her journey in the WordPress community. It was so awesome to hear her personal story, and how the involvement in the community helped her grow as a person. Ladies, thank you both for what I considered the best talks of the day!
Following Carole's talk was MY talk. Or panel, really. I was fortunate to moderate the Women in WordPress panel, with four fantastic women who inspire me. Nakeesha, Tessa, Natalia, and Birgit, thank you. We only had 30 minutes…and we finished in 28. How I wish we had more time! You can watch the video of the session here.
Wrapping up the day was a wonderful Q&A with the special guest, Matt Mullenweg, the co-founder of Auttomatic and WordPress. Lots of great stuff from that informal interview, but my favourite was this quote:
You can't go to a WordCamp and NOT come out inspired.

Matt Mullenweg
What a way to end day two! More networking occurred at the afterparty. I was drained, so got dropped off at the AirBNB.
The last day of the conference was a easier day for me. I was done presenting, so it was all about the learning. I jumped into the Learning JS Deeply track, and learn I did. Many thanks to Bobby and Kevin for their insight. My brain was overloaded, in a good way. I spent some time hallway-tracking it, and then, jumped in a Lyft and headed off to my last AirBNB on Miami Beach, for some vacation.
So, I learned a lot, was inspired greatly, and connected with friends, new and old. That's what WordCamps are all about. Now, to head back home, and jump in on organizing WordCamp Ottawa. We're still in the early phases, so stay tuned. I'm speaker wrangler this year, so quite a lot of responsibility on my plate there.
The other big question is…which WordCamp should I attend next? I had been accepted to WordCamp London next month, but unfortunately could no longer afford the travel and had to decline. Due to dance and karate commitments I'm unable to travel until July – but come September…another sunny destination? Rumour has it that WordCamp US is the weekend of my 35th birthday. Perhaps that should be my next big one!